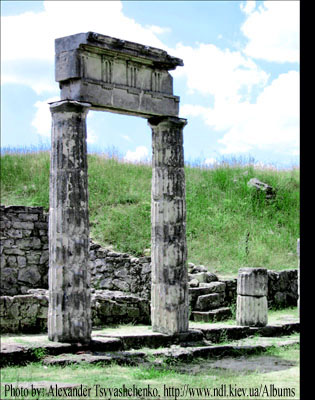 Ancient Temple ruins, now standing on the hill where the Metropolis of ATLANTIS once flourished, are a Guardian Sentinel, which is transmitting a powerful message to the populace of Planet Earth: "STAND TOGETHER"
The overhead lintel prevents these two pillars from crumbling into the cultural rubbage of time. These pillars are a symbol of our dual heritage that can never be changed, regardless of skin color and cultural differences. The lintel is symbolic of communication, dialogue and true understanding which are the only solution for peaceful co-existence and SURVIVAL.
This historical Hill of Mithridat is located in the center of the Crimean city of Kerch. Beneath the hill are numerous underground quarries, rooms and catacombs. This very special historical place on Earth belongs to every living Human on Earth.
Political differences must be adjusted to influence United Nations intervention. ATLANTIS MOTHERLAND is destined to become the most popular tourist attraction of all times. The multi-billion dollar economic boost to this area will be boundless. This peaceful populace can be proud to be recognized as an integral part of the beautiful Blue Planet tribe of Humankind. ~Leon Flying Eagle, 2004